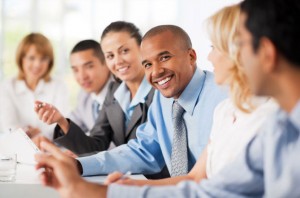 Sometimes teams don't work that well together – even when they are full of brilliant individual contributors!  If this is happening in your team, then I can work with you to identify and overcome the barriers preventing you achieving your goals.
I work with both the leader and members of the team to establish a team mission, vision, strategy and rules for engagement – to build mutual trust and support with the ultimate aim of getting the  results you want.
This might include facilitating team build days to achieve common agreement to the team's key goals, priorities and performance measures, particularly for newly formed teams, or working on relationships in existing teams where there might be tension between different parts of the organisation.  In some cases I have worked with the leader exclusively to build their confidence and skillset in chairing effective team meetings or running performance reviews. Any intervention really that we agree is needed to build the effectiveness of the group as a high performance team, achieve team goals, and be aligned to their organisation's strategy.
My approach to team building is to start by understanding your organisational context and hearing from the leader of the team themselves exactly what they believe needs to change,  what a successful outcome would look like.  I then design a bespoke development training solution specifically to deliver against their requirement.  I tend to prefer to team build by working on and addressing real life team and business issues.  My experience is individuals relate to this more. I find it helps them to apply their learnings and commitments to changed behaviours back in the workplace.   Don't worry if this all sounds a bit like hard work for a team build, as I also find it beneficial to make time for your team have an opportunity to relax and bond in a social setting!    If you believe your team could be more effective, then call me today to discuss your requirements.  I am confident together we can make a difference.
Just to complete the picture, other team related assignments I have undertaken are:
Improving team engagement levels
360 Feedback
MBTI Step I & II :
> individual feedback to improve self awareness & relationships with others
> team sessions to improve communication, understand tension areas and improve decision making
Analysis of strengths & skills Gallup Strengths finder to appreciate and better use the strengths within the team
Emotional intelligence – ESCI feedback