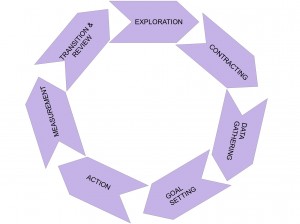 I offer coaching solutions for individuals and businesses to enhance their effectiveness, performance and results.
As an outcomes focused coach I'll tailor an unique programme for you to achieve your goals.
A typical assignment will include:
an exploratory phase to define coaching needs. It's important for me to understand what's driving you or your organisation's decision to invest in coaching and have a clear view of what a successful outcome looks like.
a contracting phase to agree with you and, if appropriate, your manager how and when coaching will happen, ground rules around confidentiality and the format for feedback on your progress.
data gathering and an analysis of your current and desired performance, (described in terms of skills, knowledge, experience, behaviours, values, mindset, etc). This may include gathering 360 feedback or undertaking psychometric assessments to enhance levels of self awareness.
goal-setting and working together to develop your coaching plan. Here we explore choices, and create momentum. For example we might use forcefield analysis to assist with decision making, or visualisation and storytelling as tools to hone the action plan and pinpoint what will excite and motivate you to achieve your goals.
action is about you experimenting, doing things differently and building self belief as you implement your agreed coaching plan.
next comes measuring and reporting on your results.
and finally a period for you to transition from our coaching sessions to life post coaching. i.e. Consolidating your reflective practice and committing to how you maintain your own ongoing personal development.
Throughout I will be a safe sounding board, and provide objective and trustworthy feedback. I will share the impressions I get from working with you and the impact you have on me to provide insight on how you might be perceived by others.